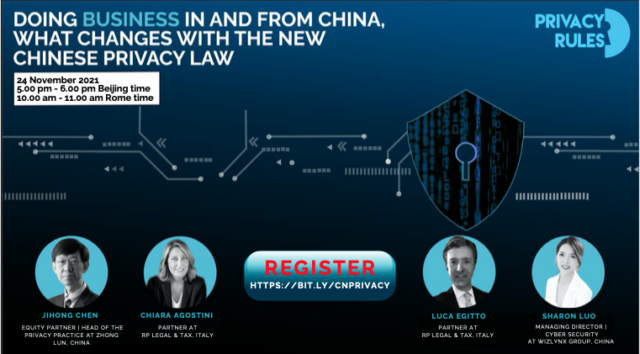 The new Chinese Privacy Law is somewhat revolutionary. In this panel discussion PrivacyRules legal and cybersecurity experts will present it and guide companies on how to comply with it.
Our experts will speak from China and Italy, hence offering advice on how data can now be transferred to/from China also in light of GDPR requirements.
Any business and entity that has customers, offices, subsidiaries, data storage, data processors or sub-processors in China and Europe should not miss this opportunity to receive specialized tips from the PrivacyRules specialists.
Learn more on our speakers and their respective teams:
Jihong Chen from Zhong Lun Law Firm
Sharon Luo from Wizlynx group
Chiara Rossana Agostini and Luca Egitto LL.M. from RP Legal & Tax